What's more FUN than a bunch of happy kids with no worries and no mess to clean up?
It's Always "FUN" at Metro Sports Center!
METRO birthday parties are the ultimate sports experience at the Best Price! Activities include soccer, basketball, volleyball, dodge ball, wiffle ball, football, and much more…One hour of field activities, of your child's choice, plus 2 hours of overlapping time in one of our party rooms to set up, open presents, and soft drinks.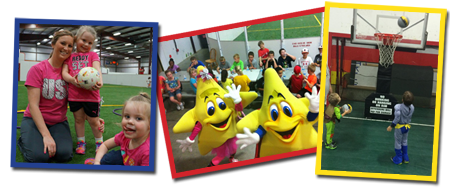 You may bring your own food & cake and ice cream with you as well. Drinks, Invitations, Generic Paper Products and a special gift for the Birthday Child are included too! Add an Instructor for just a little more, and let us handle all the details. Parties range from only $149, $199, $279 & $349. Parties can also be customized for your satisfaction. Party Room can look like the picture above when You set it up to your sport. Our Parties are The BEST DEAL in Town! Call 479-KICK to reserve your party!
Birthday Parties
 "Just Play" Party ($149).
 "Classic" Party ($199).
  "Classic Plus" Party ($279).  Instructor Included.
  "Classic MEGA" Party ($349).
  Call us to find out which is right for you. It's Always "FUN" at Metro Sports Center!
LOCK-IN PARTIES
Metro now offers All Night Lock-In Parties for groups, teams, families, etc. Parties can be Friday or Saturday Nights and are from 10pm-6am. Full Private Facility Price is $599 and you can have up to 50 Guests. Add unlimited soft drinks to your party for only $8 per guest. Bring your own food, or You can order Your Favorites in! Party Parent is responsible for having at least one adult volunteer present per 10 kids. A minimum of 3 adult volunteers is required for an over night party. Have the Coolest Party in Town! Call Jeff for more details at 812-479-5425.
Team/School/Group Parties
Have a party at METRO to celebrate your team's success or the end of the school year. Bring a bunch of friends for field activities. We will customize a party for your group. Call 479-5425 for details.
Adult Sports Parties
Everyone loves to play games, so Why let the Kids have all the FUN! Metro offers a variety of options for Private Adult Parties with a cash bar. Have 50 of your closest friends out for a night of FUN, Sports, Games, etc. Beer & Wine Sales Available Too. You can't miss with an Adult Sports Party at Metro. Birthdays, Anniversaries, Reunions, Work Functions, New Years Eve, Christmas, Mardi Gras, etc…. You can have an adult party at Metro for any reason without any of the mess to clean up. At Metro, your only as old as you act. Please call Jeff at 479-5425 for details.
Field Trips
Metro is the perfect place for your school, church, or private organization to have a class outing or field trip. Our facility is 35,000 square feet of "FUN" where we let kids be kids! The best affordable "FUN" can always be had at Metro and we can accommodate groups as large as 500. Metro is the best year round sports complex in the tri-state so book your trips now. Trips can be arranged for as little as $6 per child. Call for more details at 812-479-KICK.
*Deposit is due prior to booking all parties. All Deposits are non refundable*
*Non-refundable deposits are due for all Parties & Rentals*