LACROSSE
If you are ready to Discover Lacrosse, please use the link below to register today:
https://southernindianaselectlacrosse.sportngin.com/register/form/TBD
Have additional questions? Please contact Jeff Kelly at jeffk2315@gmail.com or (812) 459-8832.
CUSTOM FIT
Metro Sports Center is excited to announce that Custom Fit at Bob's Gym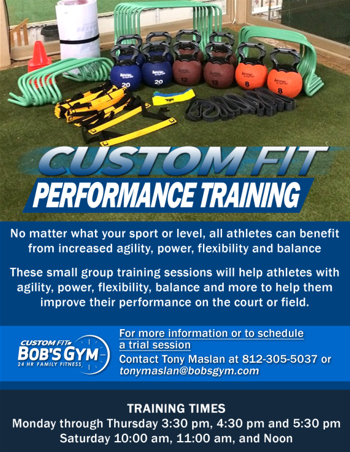 will now be providing their Custom Fit Performance Training programs on site. The program is available NOW. If you have a younger athlete who would like to be considered for this program, that will be evaluated on a case by case basis. Custom Fit Performance Training will focus on speed, agility, flexibility and strength to help prepare your athlete to compete at their very best. There will also be training programs available for parents who would like to get a workout with a trainer while their child is practicing/playing. Call Marc Sapoznik at (812) 647-6787 or marcsapoznik@bobsgym.com. We are offering a free trial week.  Contact Marc today!
 Fitness Pals (Not Currently Offered)
Metro has recognized the growing problems of increased screen time, inactivity and childhood obesity in our community, and we have developed a program to get kids active! In response to the statistics and guidelines that have been put forth by several government agencies, Metro has developed curriculum for fun, age-appropriate physical activities that incorporate education on healthy eating and life-style habits.
We use colors, shapes and numbers in coordination with physical activity to improve both mental cognition and physical abilities. Balance and agility exercises like hopping and weaving through obstacles are paired with sorting objects based on their shape color or category. These activities improve aerobic ability and hand-eye coordination.
Age-appropriate nutrition education is also an important component of the Fitness Pals program. Kids will learn about the food groups and what foods belong in each one. In addition to identifying the food groups, activities that include the daily servings of each are incorporated into the curriculum.
Fitness Pals is a program designed to meet or exceed the US Department of Health and Human Services Physical Activity Guidelines. Fun, interactive games focus on balance, motor skills, and hand-eye coordination, to promote muscle and bone strengthening and aerobic fitness. Our goal is to encourage healthy lifestyle habits at an early age in a fun, nurturing atmosphere that combines physical activity, mental acuity and social interaction.
In the US, 1 in 8 preschoolers are obese, and children who are overweight or obese as preschoolers are 5 times more likely to be overweight or obese as adults.
Establishing positive habits at an early age can ensure healthy development into adolescence and adulthood.